We continue talking about the Present Subjunctive in Spanish. We remind you that if you feel lost in this complicated topic of Spanish grammar, you can always go to our video series about the Spanish Subjunctive.
Irregular Present Subjunctive (3)
In today's Spanish lesson we will talk about the Formation of the Present Subjunctive of irregular verbs. There are a few verbs in Present Subjunctive that are completely irregular and we can't do much except learn how their form is. This is the case with the verbs like ser, haber, ir or saber.
Here you have the conjugation of these irregular verbs in the Present Subjunctive: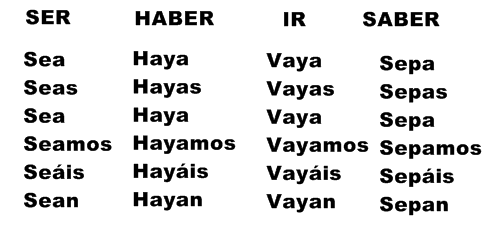 Remember that it is always useful while learning Spanish (the same for learning whatever other language,) to do it in context. That's to say, you will learn these irregular verbs much better hearing them, seeing them, and using them in context. Don't be afraid of messing them up. Mistakes are also part of the learning and if you confuse them once, the next time you will remember them much better.
Examples:
    Yo te pido que seas más simpático – I ask that you be more friendly
    Lucas quiere que tú vayas a su casa – Lucas wants you to go to his house
    Maria desea que yo sepa la verdad – Maria wants me to know the truth
    No creo que haya mucha gente en la fiesta – I don't think that there are many people at the party
    Mi novio dice que es posible que no vayamos de vacaciones – My boyfriend says that it's posible we won't go on vacation
    Espero que sepáis bien lo que hacéis – I hope that you know well what you're doing
If you want to review the content of the Formation of the Irregular Present Subjunctive you can do it with the following video:
Doubts about the Present Subjunctive in Spanish?
Don't worry! Review step by step, the Spanish lessons about the formation of the Spanish Subjunctive.
Formation of the Regular Present Subjunctive
Formation of the Irregular Present Subjunctive
Irregular verbs with vowel changes
Formation of the Irregular Present Subjunctive (2)
Irregular verbs in the first person (yo)