Bilbao is the capital of the province of Biscay, in the north of Spain, in the autonomous community of Basque Country. With a population of 355,000 inhabitants, it is the most populous city in the Basque Country. Its climate, which is temperate for most of the year, its mountainous landscape and its proximity to the sea, make Bilbao a friendly and welcoming city for any visitor.
During the last decades, Bilbao has undergone a total urban renewal, becoming the modern and cosmopolitan city it is today. In addition, its high quality of life places Bilbao over the other cities of Spain.
Bilbao also offers a wide range of entertainment and cultural and dining activities. An infinite number of possibilities that make our guests live a unique experience.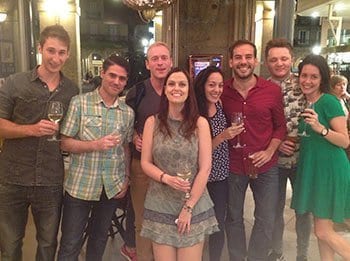 Museums in Bilbao
No doubt Guggenheim, is the quintessential museum in Bilbao. Design by Canadian architect Frank O. Gehry, it opened in 1997. The building, clear example of avant-garde architecture of the twentieth century, houses permanent collections and temporary exhibitions of great international prestige.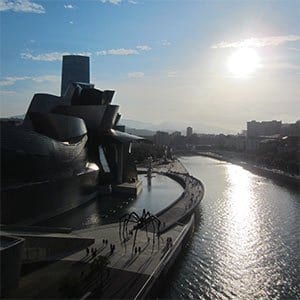 Another interesting museum in Bilbao is the Museum of Fine Art, which hosts a variety of works from the twelfth century to the present day. These include the collection of Spanish, Flemish, Dutch and Italian artists.
You can also visit other fantastic museums in Bilbao, such as the Archaeological Museum with interesting collections relating to the history of the Basque people; the Basque Museum with an attractive collection of items about the life and customs of the Basques; the Museum of Artistic Reproductions of classical art; the Ria de Bilbao Maritime Museum with objects and related maritime tradition of our people and the Museum of Sacred Art  with items from the XII - XX centuries.
Theatre in Bilbao
Several theaters in Bilbao offers an interesting annual program where opera, theater, dance and music are included. The Arriaga Theatre or the Champs Elysees Theatre.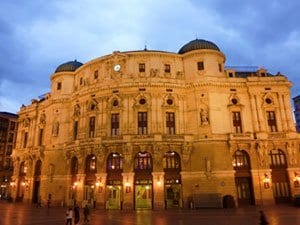 Furthermore, every summer the Bilbao theaters perform in the streets, with the Kalealdi Street Theater and Arts Festival which includes street performances of contemporary dance, circus or puppet.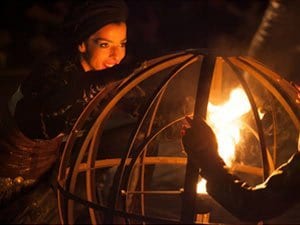 Gastronomy in Bilbao
If there is something that fascinates visitors to the city, it is the gastronomy in Bilbao. The tradition of going for pintxos on Thursday, Friday or Saturday nights with friends is something that is deeply rooted in Basque culture.
The variety of bars and taverns in different areas of the city, allow you to enjoy a wide variety of pintxos that you must accompany with a good txacolí