Why LINCE? Reasons to study Spanish in Lince

Qualified native speaker teachers
All the Spanish teachers of our team have a specific training and years of experience in teaching Spanish.
Reduced class-groups
Each student is unique and that's why we like the attention to be as personalized as possible, so there is a limit to the number of students per Spanish class.
Effective Methodology
We use the finest ELE materials and we keep up to date with the latest trends in teaching Spanish.
Flexibility
We are flexible to adapt our program to fit your needs.
Cultural Immersion Program
We offer a varied program of free cultural activities in which all our students are invited to participate weekly.
We're Cooperative
In addition, a special cooperative, where we value the work of our partners, we invest in training our staff and in social work and are environmentally friendly.
Unbeatable price/quality ratio offer
Because we all love to buy at the best price.
Exceptional Location
Before and after school, you will enjoy the city centre in Bilbao.
Comfortable Facilities
We have Wi-Fi throughout the center,  read a book from our library or just relax.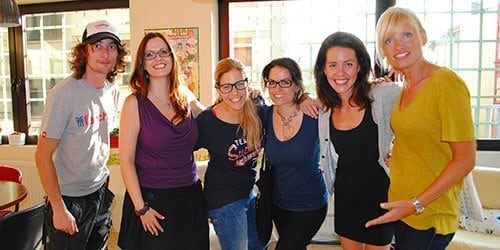 Company Values
In LINCE Spanish School, we think that company values are essential for it to work well. This is why is it so important for us to follow our business principles, which also make us a pioneer and exemplary Spanish school:
Sustainable

in the use of resources


Efficient

in teaching and learning


Welcoming

to the students

Ethical, legal, transparent

with clients and students and with the functions and path of the business

Democratic

in the interior functions and treatment of the associates

Recycling of trash

Specialized Teachers

Our entire team of teachers is specialized in teaching Spanish to foreigners. They have specific training and years of experience.

Personalized Attention

We know it is important for you to feel comfortable when you're far from home, that is why we do everything possible to make it that way.

Social Engagement

We collaborate on social projects to the best of our possibility.

Open for constructive criticism

We like to hear your opinion.

Limited use of paper

Methodology

The courses of Spanish follow a prepared program in detail with flexibility to the specific needs of the student.

A comfortable and spacious common area




We say NO to all and any system of exploitation

For associates, employees, collaborators and interns.

We say NO to under the table jobs and we are just with our salaries.

 
Limited use of plastics

Motivation and 100% participation

The Spanish teachers are the associates of the corporation. We do what we like. And this you will notice.

Central Location

In the city centre, the most lively neighborhood of the city and with great connection to the rest of Bilbao.

We are transparent

We offer what we can give and we give what we offer.

 
Use of efficient energy cartridges
We invest in the continued education and training of our faculty.

Close Environment

We work to create the best environment for everyone: we treat the students how we would like them to treat us.

We are not egotistical

The host family receives 100% of the payment given by the students. We only charge a tax for paperwork.

 

Our objectives short term and long term

(because we want to better ourselves!)

We use exclusively recycled paper
Creation of a virtual learning platform where courses at a distance are given and complementary learning material is distributed.
Cycling Spanish movies monthly.

Weekly sessions of language exchange.

Give employment to new workers.
 
Enjoy an establishment with the best forms of energy efficiency
 
 
 
 
Use of renewable energy